Surfboard Building Course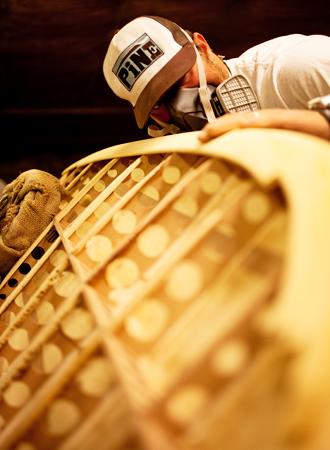 In spring 2014, Grain Surfboards is bringing their four-day surfboard building class to the UK. The course will be hosted by Fyne Boat Kits at our workshop in the Lake District, 3 miles from Kendal. Tuition will be provided by the expert board builders from Grain, who are coming to the UK specially to run this course.
Students will learn to build their own wooden surfboard using methods devised by the builders at Grain Surfboards. Please note that this class is not intended for aspiring commercial board builders – we just want to share with surfers the great feeling of building your own board.
The course costs £1400 including VAT. This includes the materials to build whichever of the Grain surfboard kits you choose: you do not need to buy the surfboard kit as well.
The course will run from Saturday 5th to Tuesday 8th April.
Book your place by 31st January to make sure you don't miss out. You'll still have until the end of February to decide on the board you want to build.
What You Get:
You can choose to build any of the Grain surfboards we offer as kits. You take your own board home at the end of the course, ready for glassing and finishing on your own. Materials used in the board and those to be taken home with the student are the same as used in Grain Home Grown kits – sustainably grown Paulownia, zero volatile organic compound epoxy, etc. You will need to choose which board to build at least a month before the course begins so we can get everything ready for you.
The cost of all materials, supplies and selected pages of detailed instruction on glassing and finishing are included in the course. The glassing supplies you take with you on completion are also included as is use of all of the tools needed. You will be responsible for your own food costs and accommodation.
What You Learn:
Two Grain board builders will be available to guide you through the easy step-by-step process to ensure that each board that leaves the workshop will be a beautiful one-of-a-kind surfboard that will last a lifetime. You will learn basic surfboard design concepts, the simple application of steam to manipulate wood into shapes, adhesive applications, elements of edge tool work, glassing and effective use of epoxy. Demonstrations will be held in the evenings to show you the techniques of glassing, to be done at home after the course.
We anticipate the class will fill quickly, so please call or email or order below to reserve your shaping stand soon. Please note that full payment is required to reserve a spot. Tuition is semi-non-refundable.
For more information on surfboard building courses, please see the Frequently Asked Questions from Grain Surfboards or contact us if your question is not answered.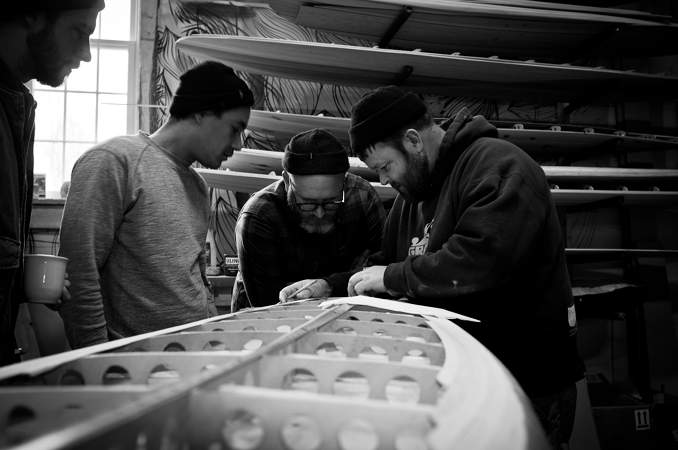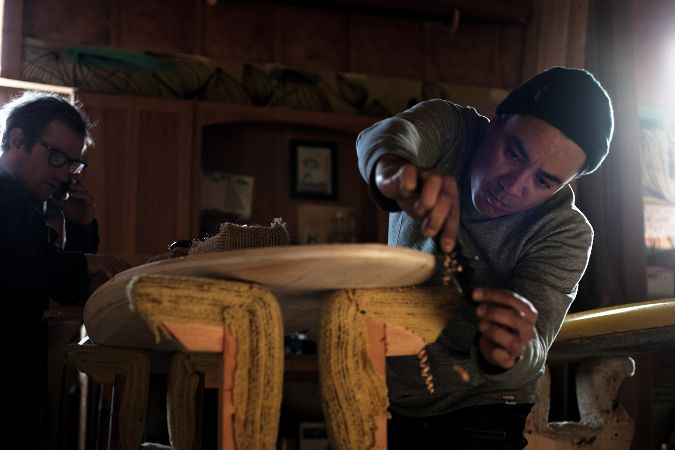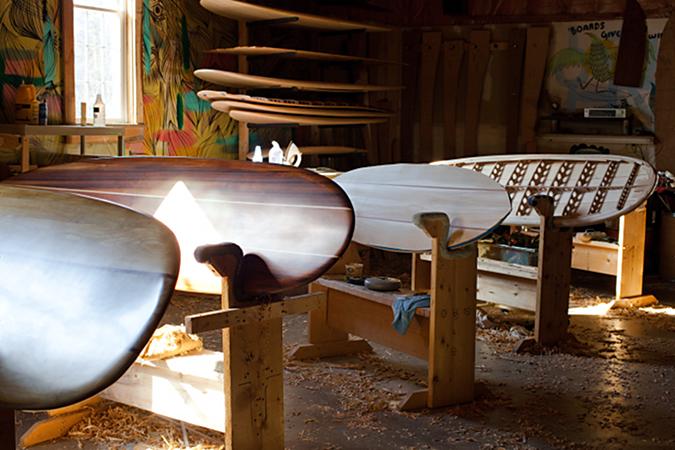 Schedule
Each day starts at 7:30am and will usually finish at about 6pm.
Day 1
The course starts with an overview of Grain Surfboards and the building process. Each student starts with a board with the frame already glued to the bottom planks. Students will pair up into teams of two to build the rails of one person's board in the morning and the other in the afternoon.
Day 2
Cleaning up rails and fairing outline
Shave down lands
Glue down top planks
Day 3
Shave down top planks
Fair deck to rail seam
Glue on tail block
Day 4
Refine outline and rail shapes
Final shaping, sanding
Q&A
Course dates and details will be added here when available.