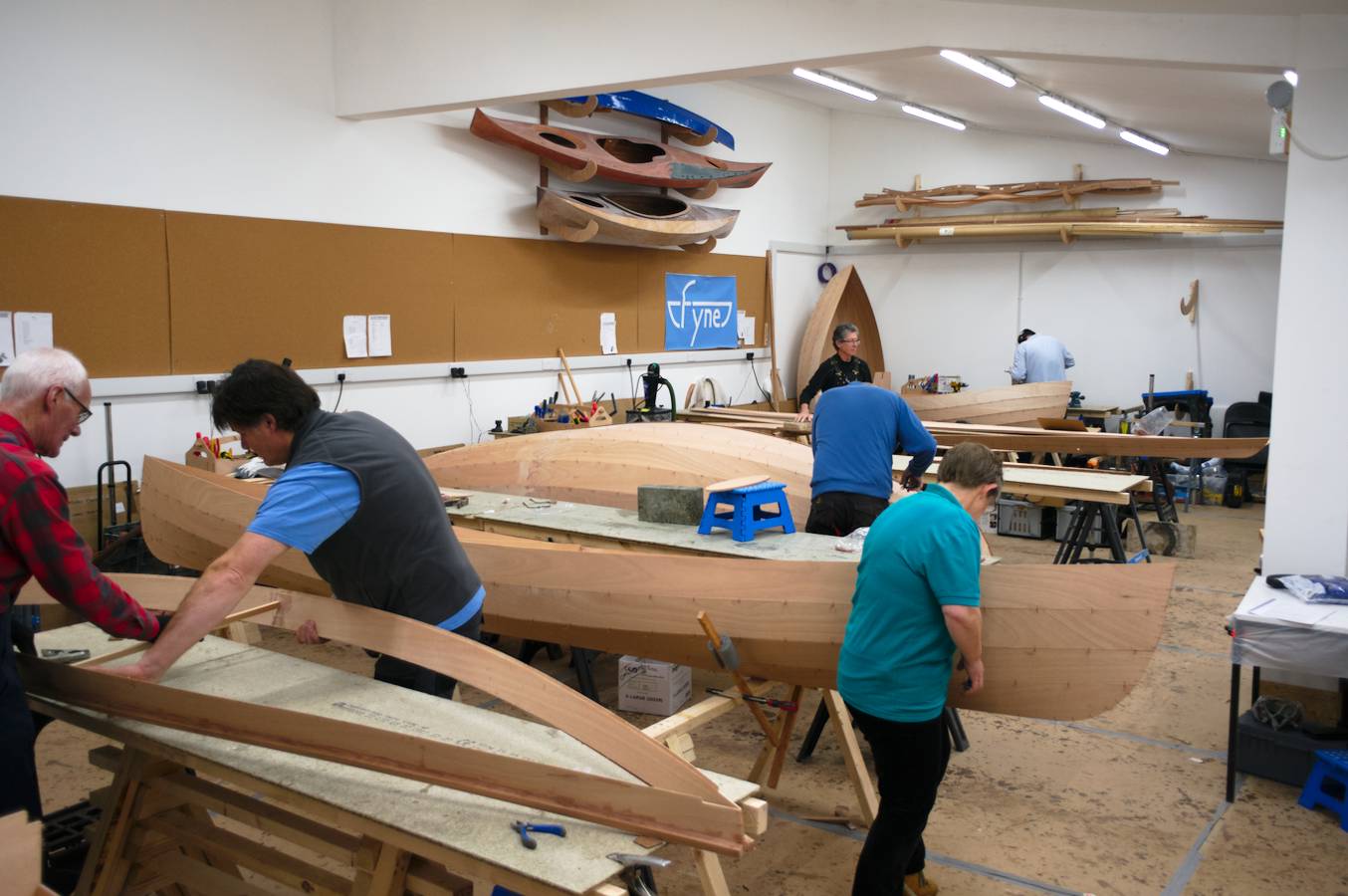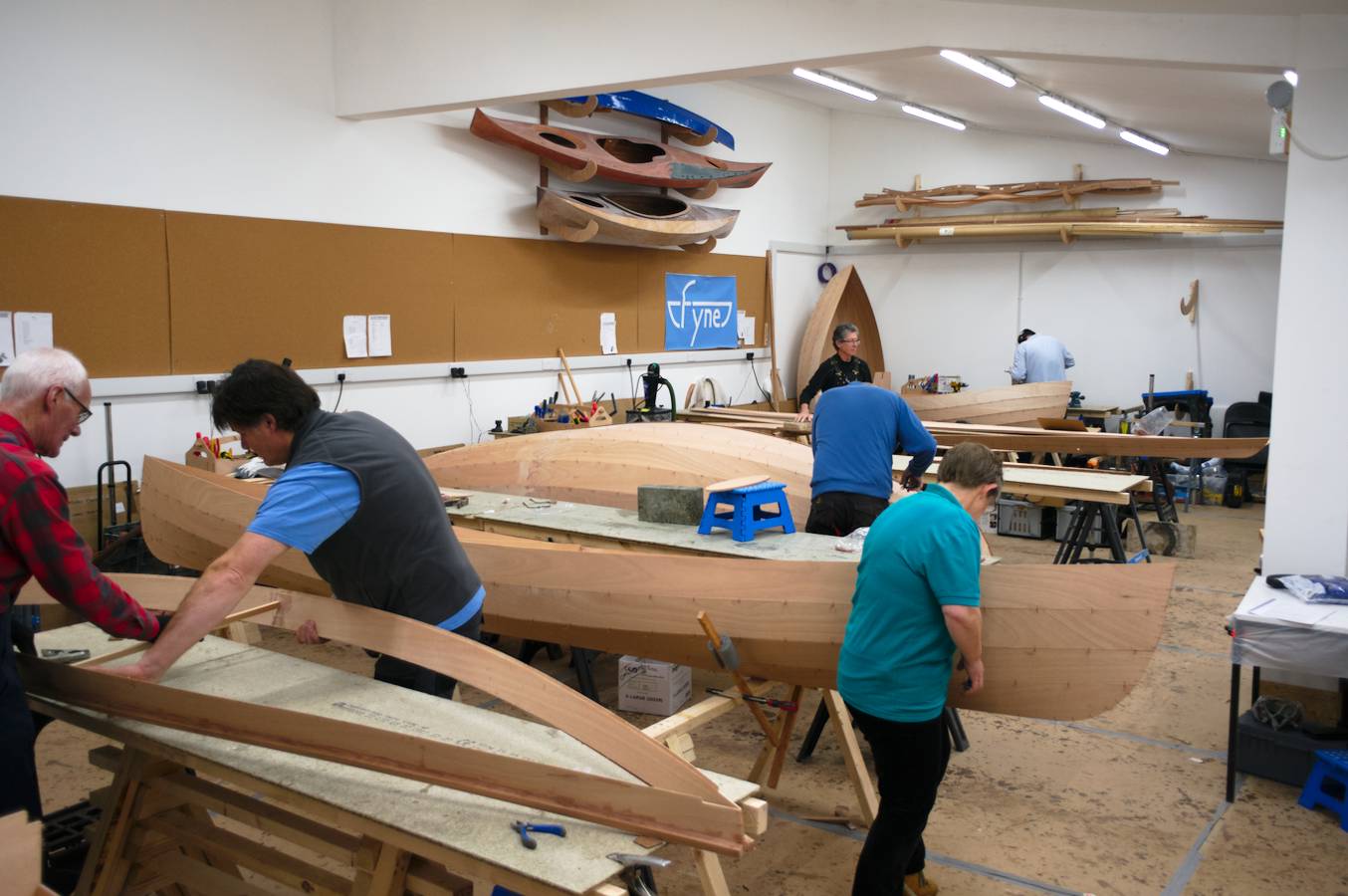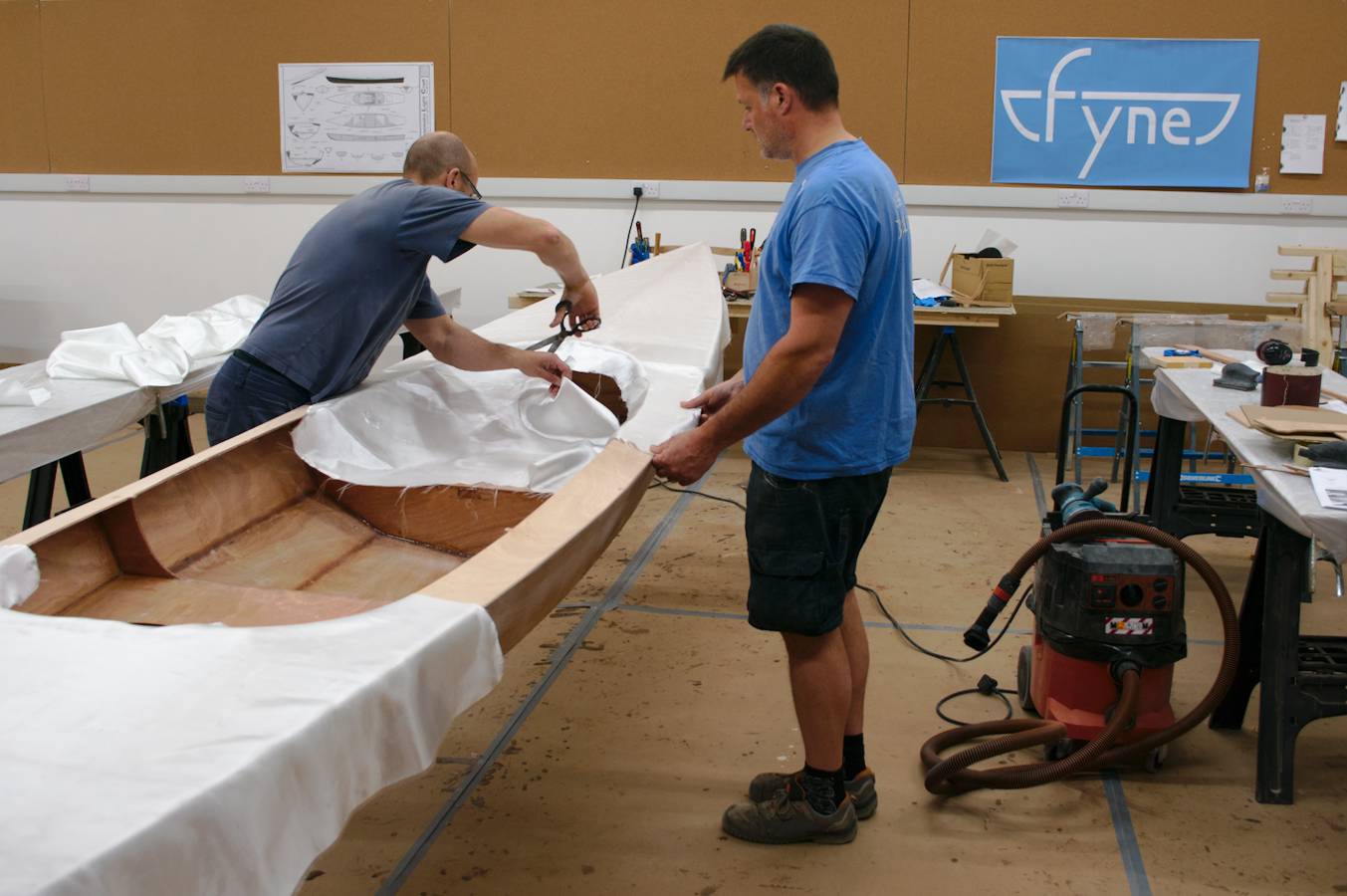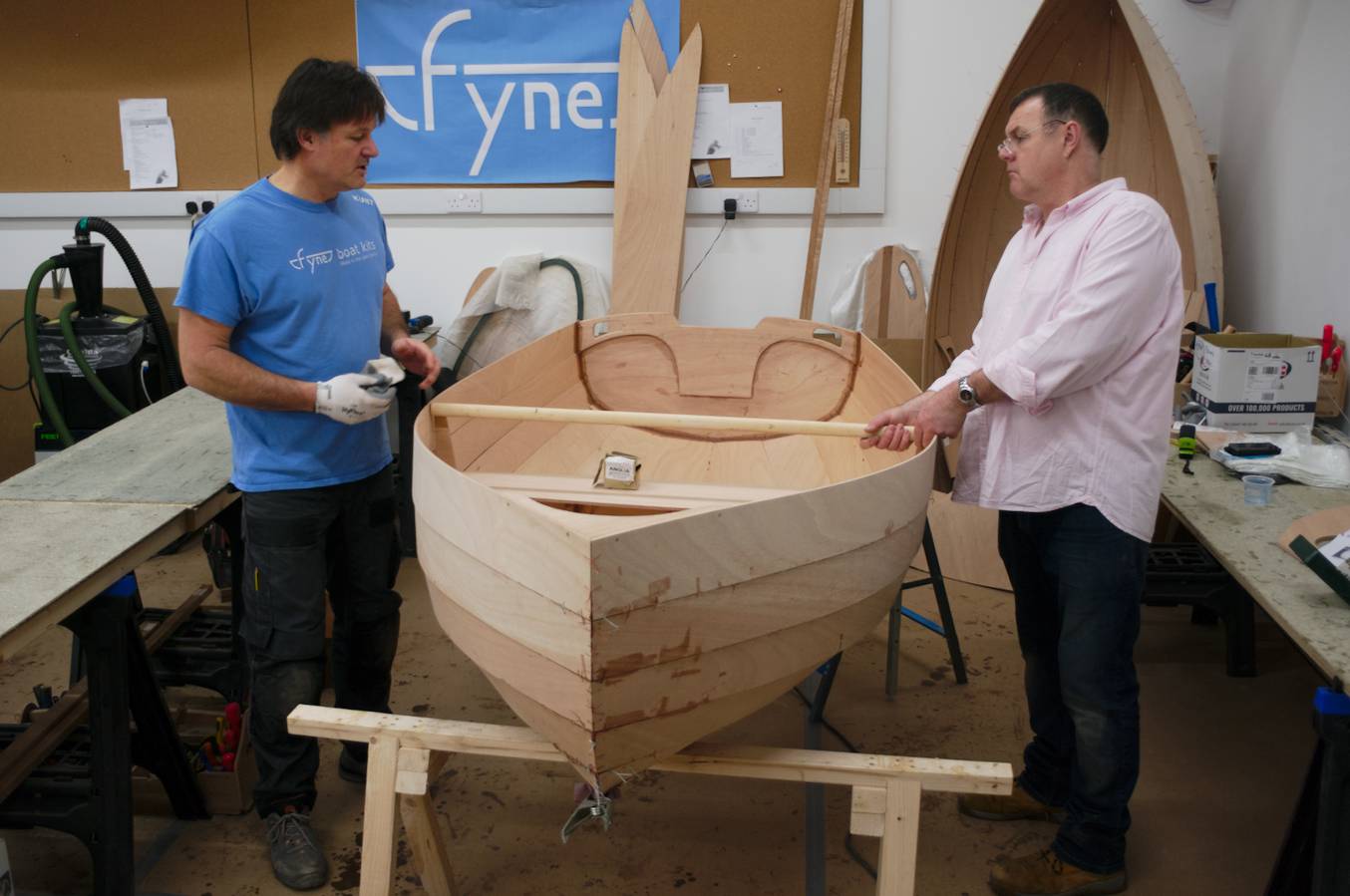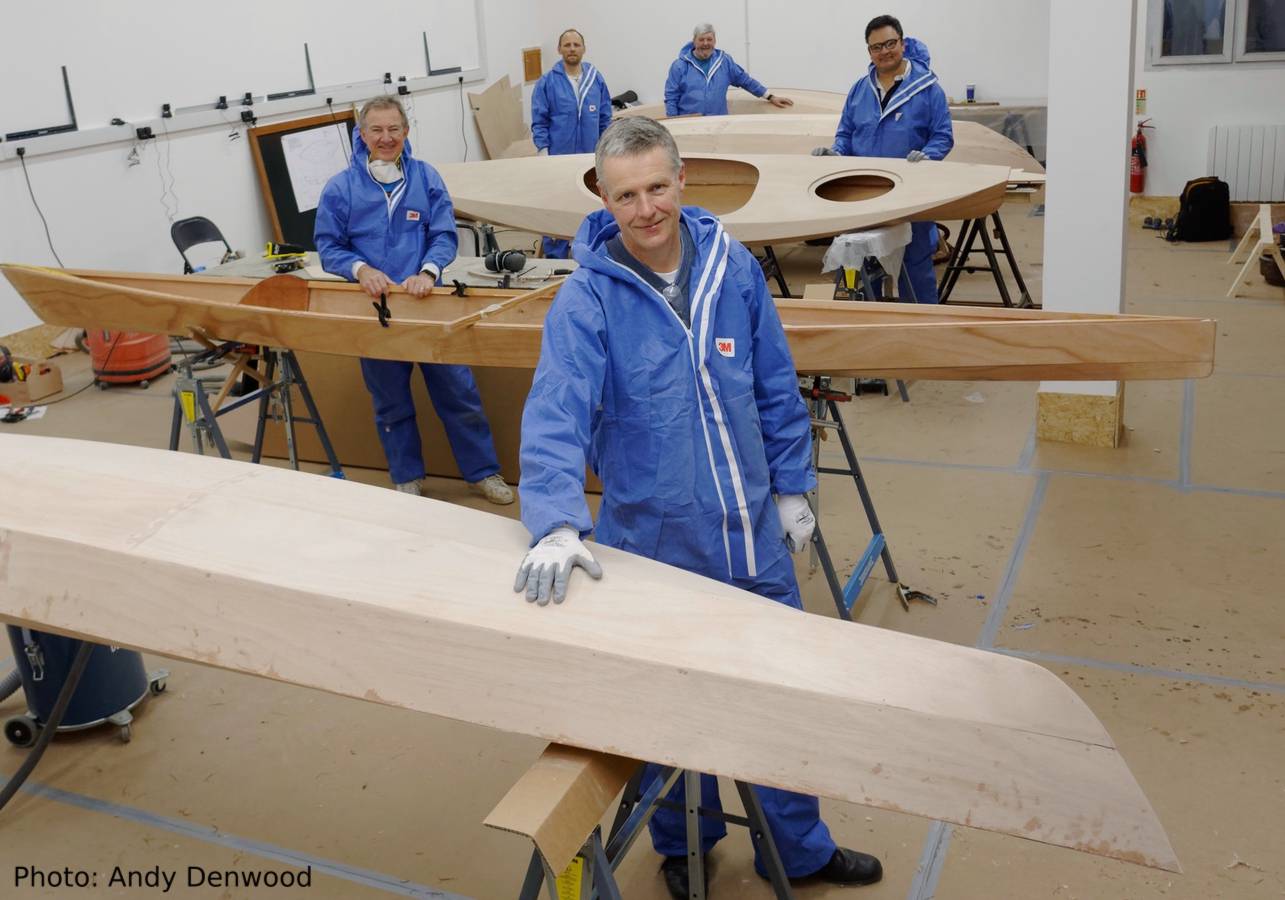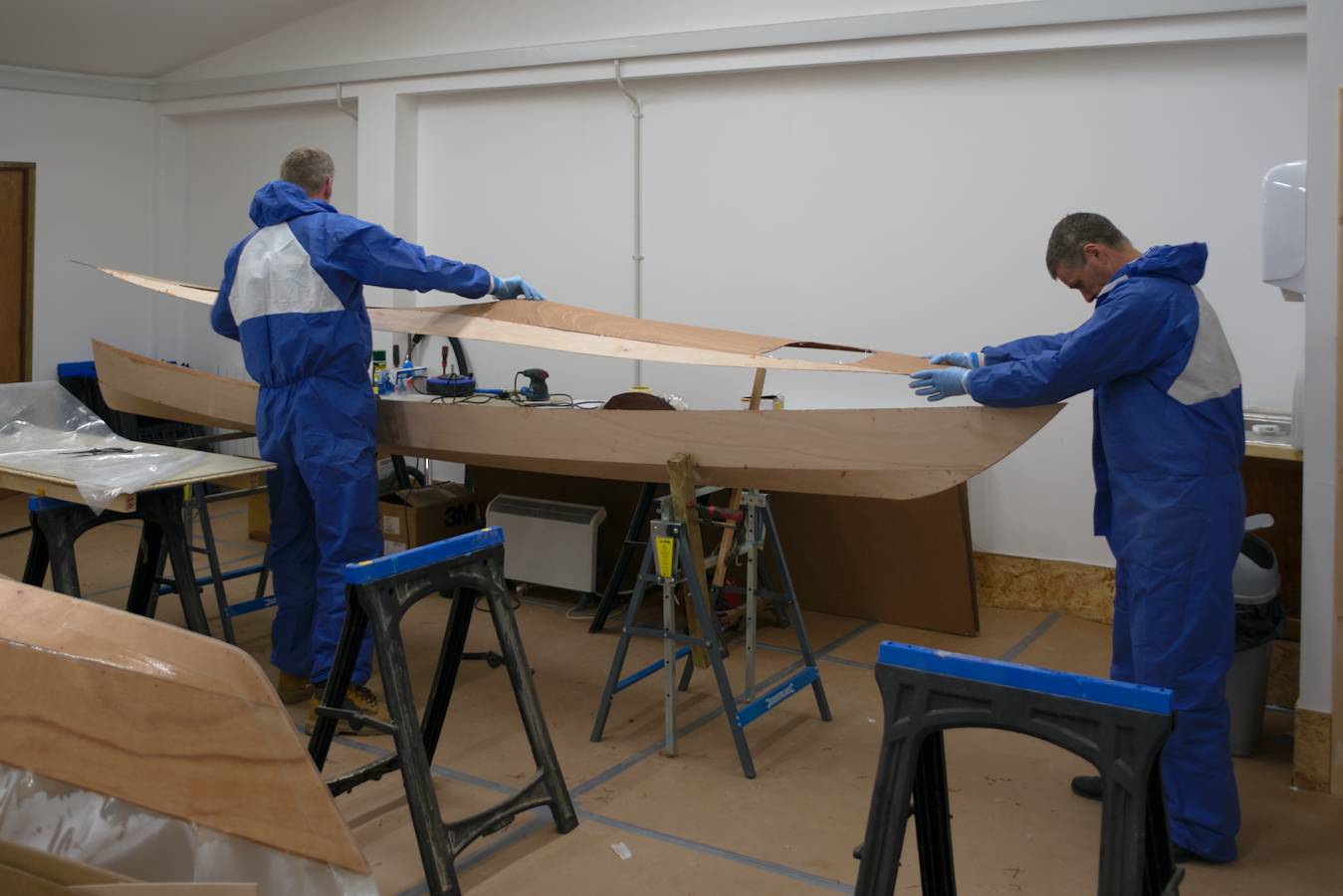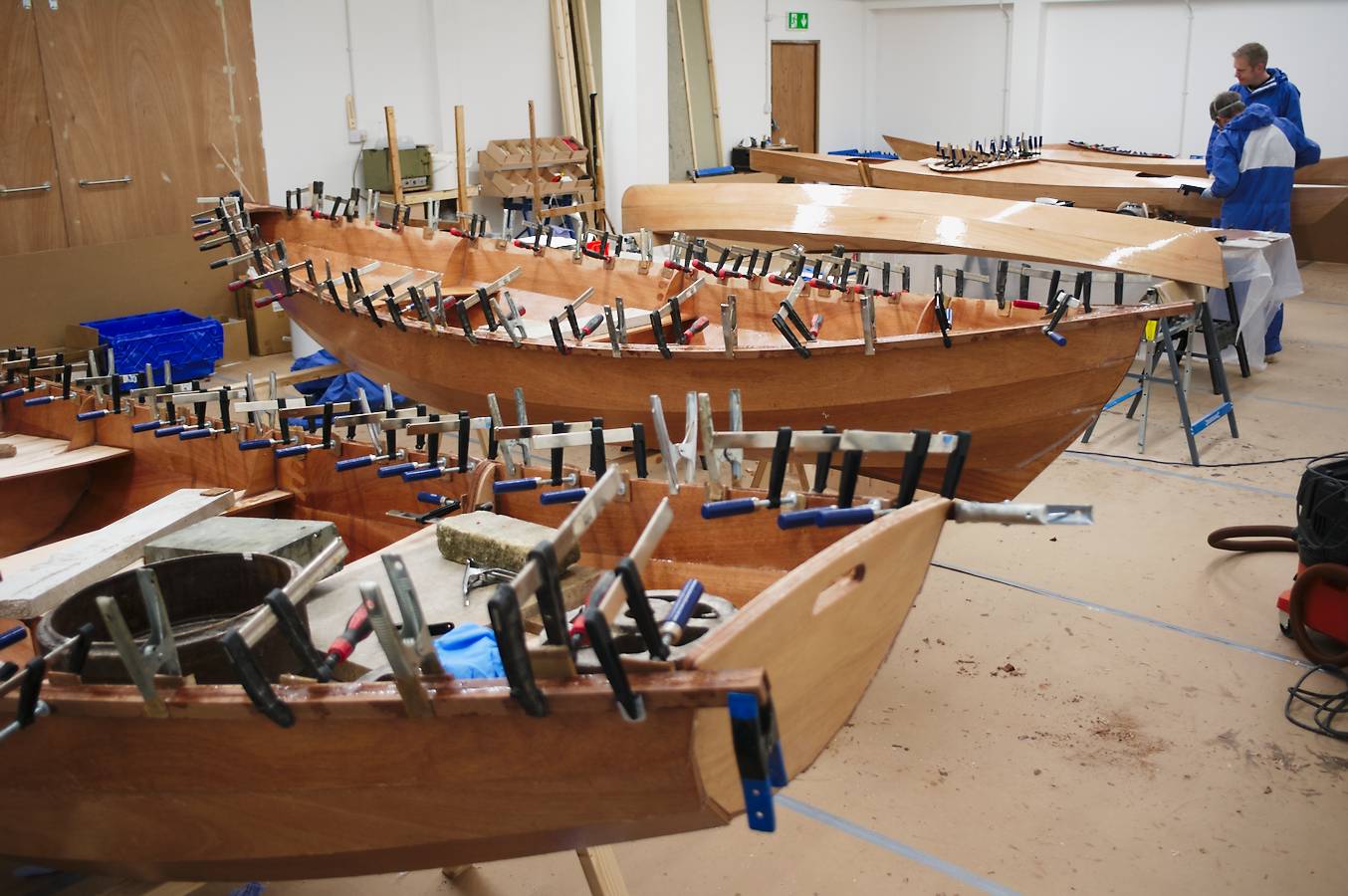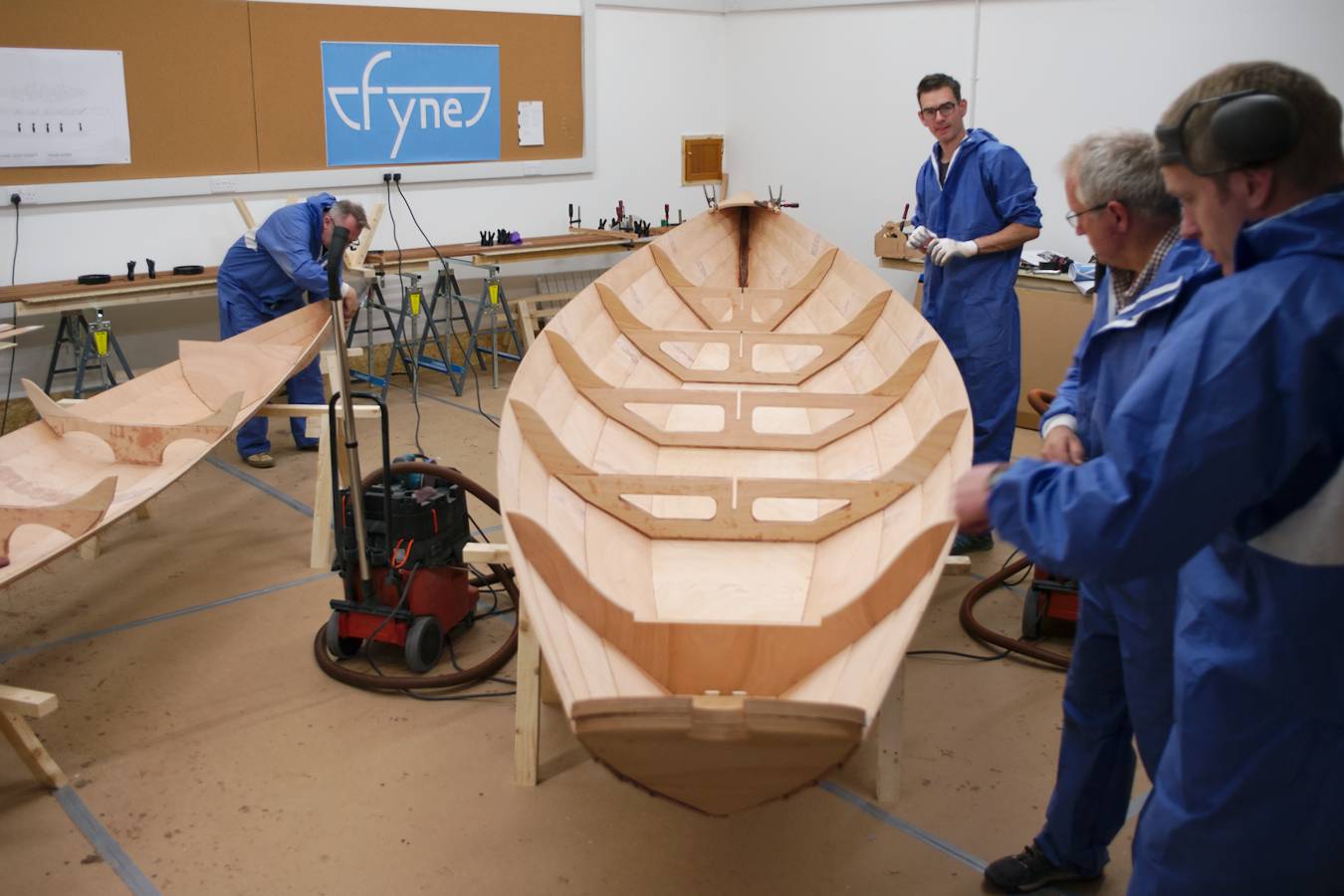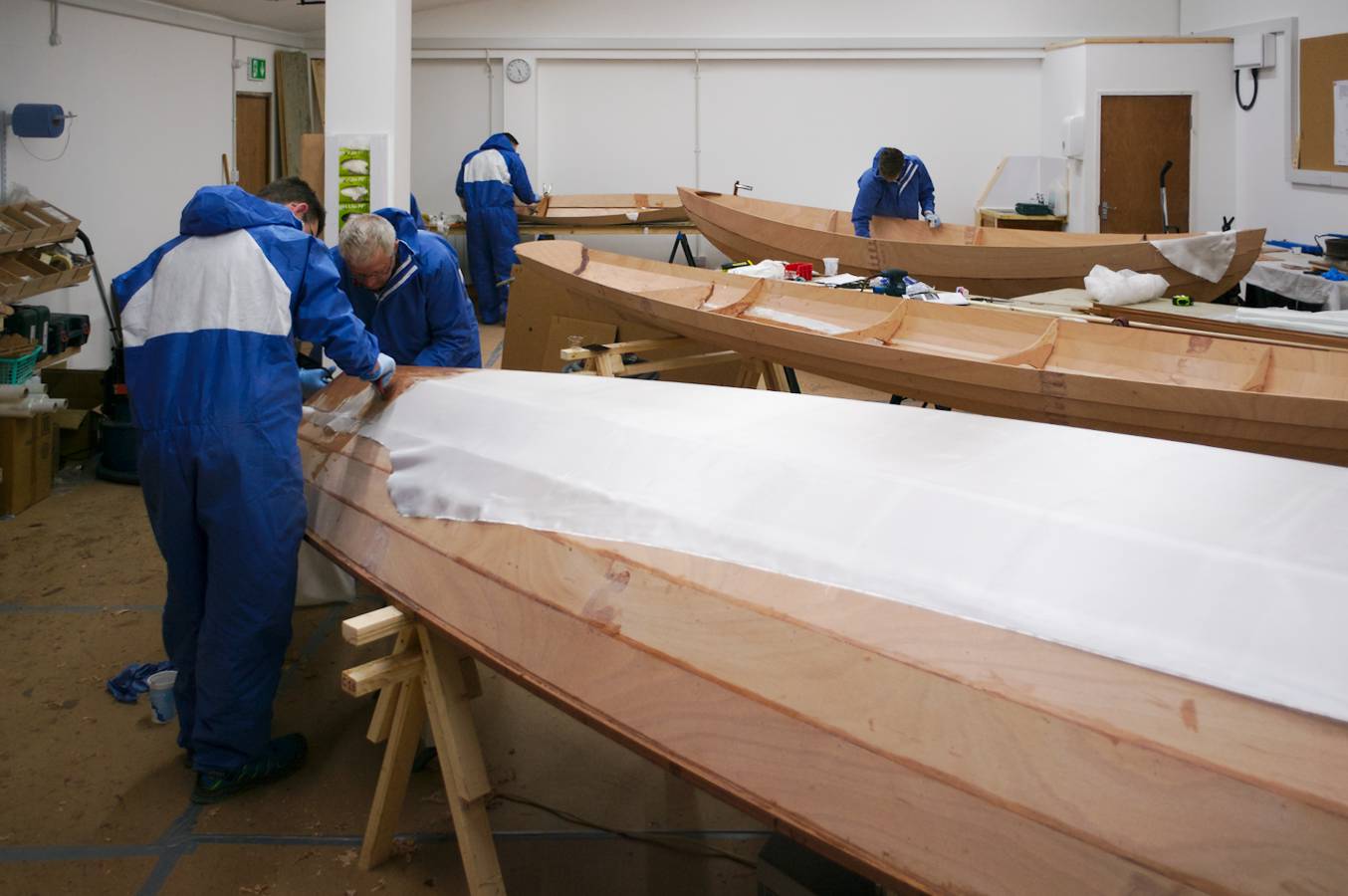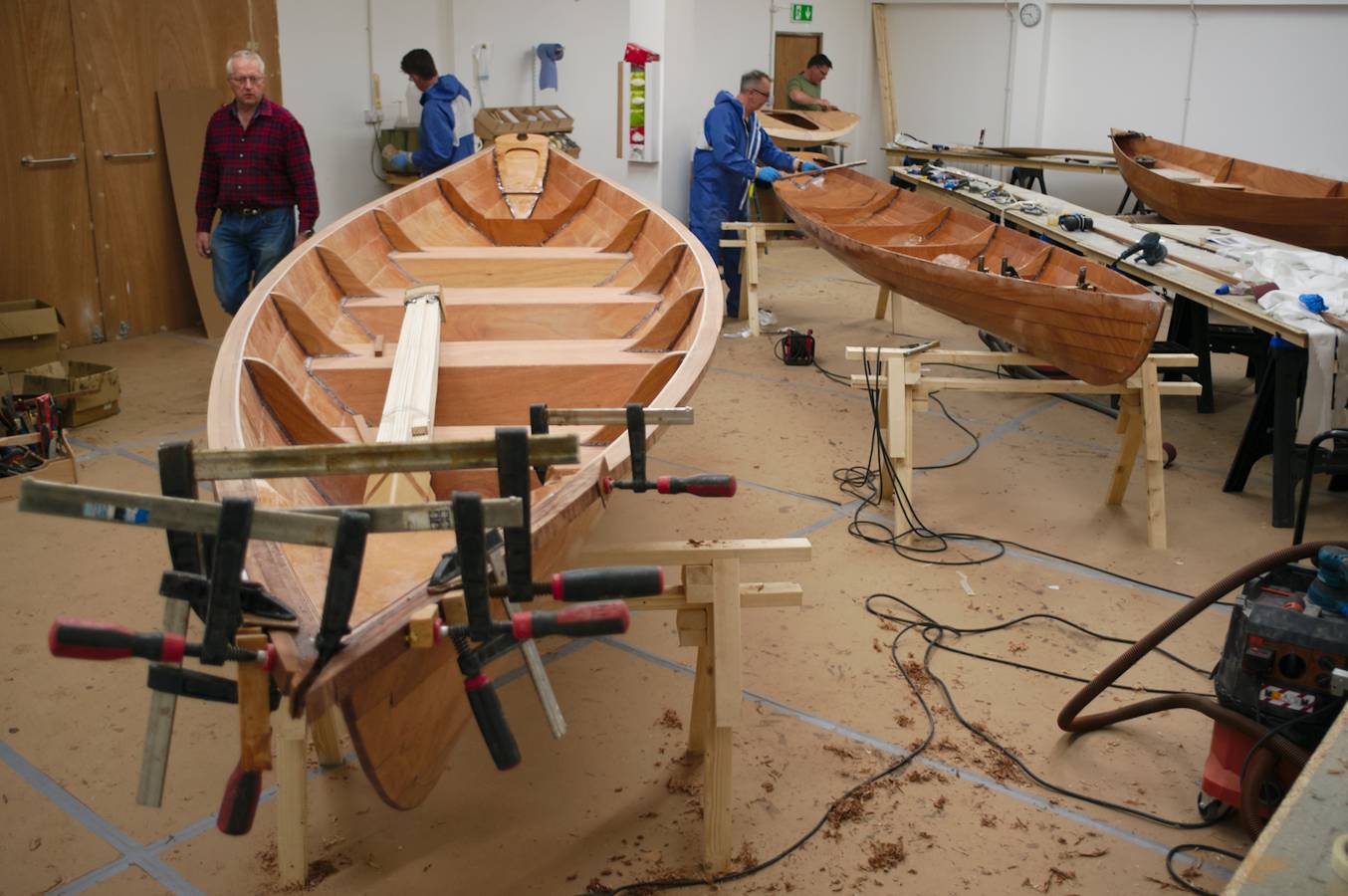 Build your own wooden boat under expert tuition on one of our boat building courses in our fully-equipped workshop. You'll be part of a group of like-minded builders learning the craft of boatbuilding together.
Our experienced instructors will help you assemble your own boat from start to finish. Most classes are 5½ days – a perfect one-week holiday, with your own boat to take home at the end. All major assembly will be completed, leaving just a few smaller jobs to complete at home, such as fitting hatches, rounding rails and assembling rudders and spars for sailing boats. Painting and varnishing will always be left to complete at home, due to paint drying times.
I really enjoyed the week; the facilities and equipment are top class; the kit materials were also perfect, and not least; Kurt is a great teacher; patient and thorough!!

You have a great team; hope to repeat the process again with another model; its the only way ill get to actually finish a boat project!
Niall (Passagemaker Dinghy, December 2019 course)
Read what our students have to say about our courses here.
The schedule for the week-long classes has been refined through experience to make sure everyone has a completed, beautiful boat to take away at the end of the course. You don't need to be skilled at woodwork or fibreglassing, but we encourage you to study the process before arrival – we'll send you the construction manual when you book your place – so that as much as possible of the five days is spent learning practical skills and completing your boat.
In March 2019, for our first course in our newly-completed classroom, we were visited by Andy Denwood for a two-part report for BBC Radio Cumbria. You can listen to the audio on his website.
Please note that you should not expect perfection in every aspect of the build – that would take weeks or months of very careful work. Remember that almost all boats have a few small mistakes and imperfections that only the builder knows about. Most of them are only noticeable upon very close inspection.
The classes are held at our workshop in the Lake District, where we manufacture the precision-cut kits for our wide range of boat designs as well as building completed boats for those who just want a beautiful wooden boat without building it themselves. There are numerous Bed and Breakfast places and campsites nearby and plenty to see and do in this scenic region.
Please read our Frequently Asked Questions about boat-building courses if you need more information.
During the ten-day course, not only did I learn a lot of new skills but also I had a fantastic time. Although it was hard work at times – and quite long hours on occasions – I found the whole experience strangely relaxing if only because it provided me with a complete break from my normal routines. Kurt was a fantastic instructor: as well as being kind and endlessly patient, nothing was too much trouble for him and I very much appreciated the way in which he dealt calmly with all of the inevitable issues that cropped up during the build. The working environment was spacious, light and remarkably clean and it was clear that Kurt had gone to significant lengths to prepare my workspace before I arrived … even to the extent of glueing some of the puzzle joints so that I could make a swift start on the build. What is more, the classroom was incredibly well-equipped with all the tools, safety gear and consumables that I could possibly need. Given that I had well over 60 clamps on the boat at one point in time, I simply cannot imagine being able to have built it at home!

In short, I was thoroughly impressed by the service that you offered, not only cutting a very high-quality kit in the first place but also helping me to assemble it into something resembling a finished boat. Please pass on my thanks to everyone.
Steve (Chester Yawl, June 2019 course)
Facilities
Our new boatbuilding classroom is purpose-built and equipped with a complete set of tools for each boat on the course. The classroom is very well insulated and electrically heated to keep it at a steady working temperature, to get the best results from the epoxy. If you arrive expecting to be working in a draughty shed, you'll need to leave all those extra layers of warm clothing at the door.
With a full classroom of half a dozen students, who may all be sanding at the same time, the air in the classroom remains remarkably dust-free. Each sander is attached to a vacuum and an overhead air filter catches any stray dust. We also provide disposable dust masks and coveralls for all our students.
First of all I wanted to say thanks for a fantastic week. I thoroughly enjoyed it but couldn't have it done it without all your help. Also practically it was great to have Kurt's help during the course as I have little time at home. Plus it was great to meet such a lovely bunch of blokes and to see a business like that thriving for so many years. You're definitely doing something right.
Gary (Dinky Dory, July 2019 course)
Introductory Epoxy Courses
We run these short introductory courses at our workshop for people who haven't used epoxy for wooden boatbuilding before. The classes last about three hours and will introduce you to the techniques of using epoxy safely and effectively, including filleting, laminating, coating and applying fibreglass tape and fabric. Our experienced boat builders will provide expert tuition as you gain hands-on experience of the epoxying techniques used in wooden boat building.