Customer Feedback from our Courses
Here is a selection of the feedback we have received from students on our boatbuilding courses.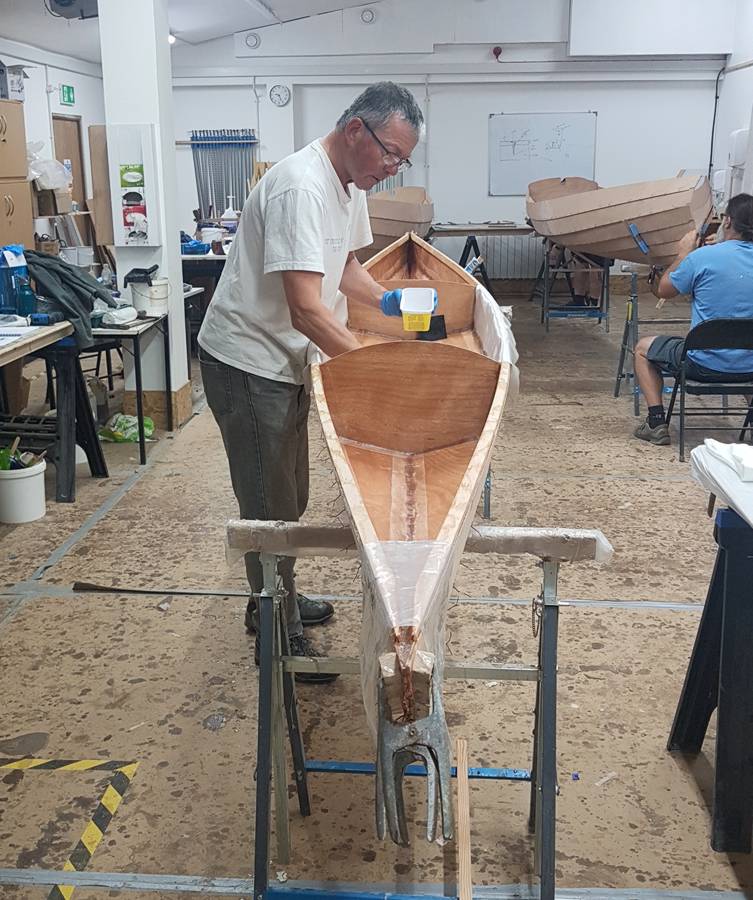 I thoroughly enjoyed the course and the accomplishment of taking home my 17 foot Chesapeake LT kayak at the end of the week. Kurt was a fantastic instructor and mentor and I had complete confidence in his expertise. It was great to work on my boat in the company of James, Malcolm and Roger who were there for two weeks and we all learned new skills and techniques together.

I would recommend the course to anyone considering building a stitch and glue boat as having Kurt take you through the various steps in construction was much more understandable, for me, than just reading through the manual.

I have my kayak home now and am finishing the various small jobs before starting the final sanding and varnish process. I will send some photos of the completed boat and my first venture on the water once it is all complete.

Best wishes to all at Fyne Boat Kits.
John (Chesapeake 17 LT, 10 day course, September 2021)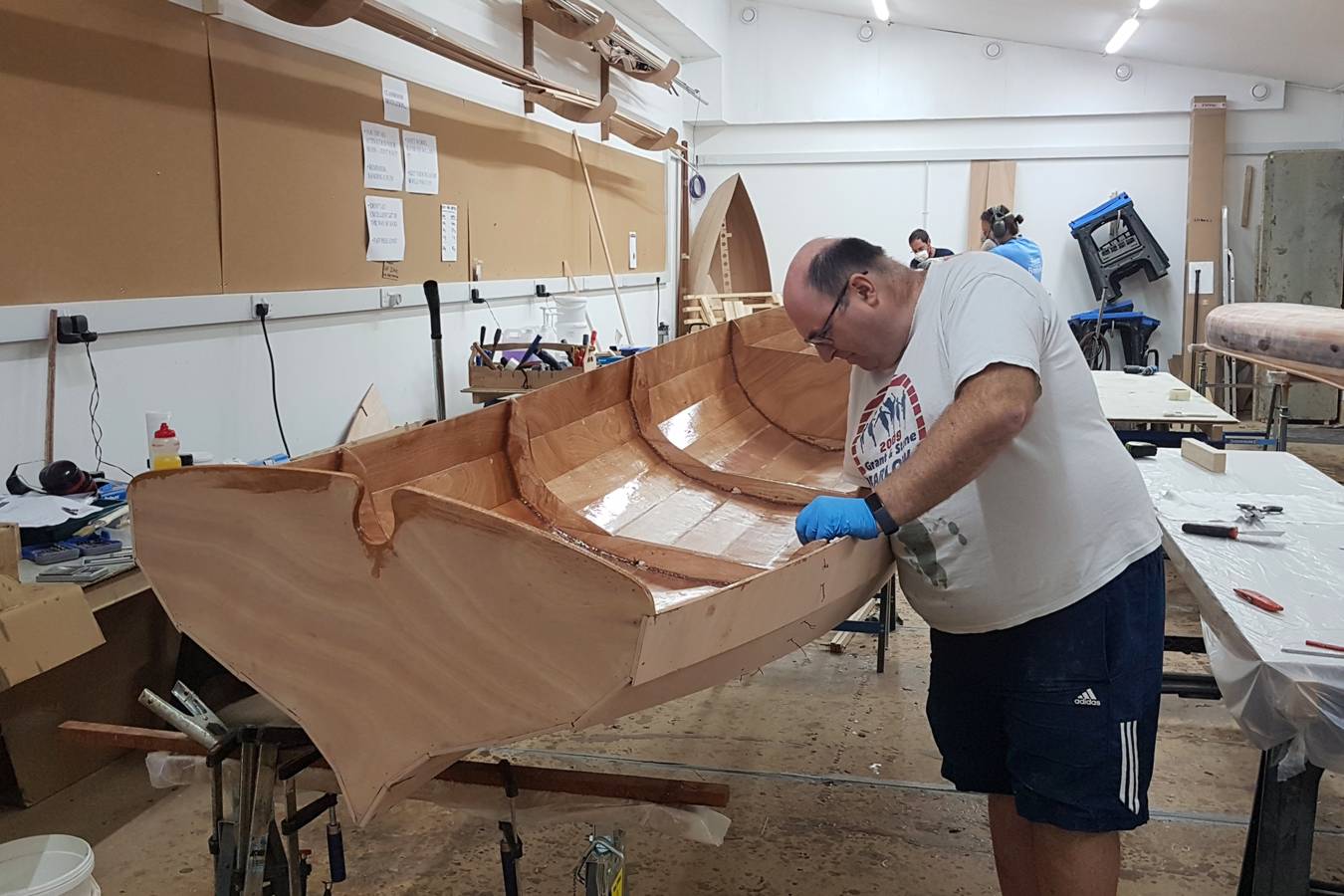 I so enjoyed the 10 day boat building course. It was a real break from my normal work. Kurt and Phil was so encouraging with tips, suggestions and just joining in. There was great comradeship amongst the students and staff. Kurt was especially good demonstrating the techniques for each new phase of construction.

The amount and level equipment was great, making sure we were fully equipped… had I had done it on my own I'd be constantly down the DIY store, buying the additional equipment. It was great using the scraper and Japanese rasp, which I would never have thought to use, for which you had in and I bought; its been fantastic.

Also it was great that Kurt and Phil explaining parts of the manual I did not understand.

I feel confident to do another boat on my own.

A lovely touch for my family was seeing photos on Facebook of the workshop with us working on our respective boats. My family had never seen me so animated and happy at the end of the working day.
Malcolm (Chester Yawl, 10 day course, September 2021)
The first thing you supply to the nervous anticipation of first time builders is an extremely friendly welcome which cuts the settling in time to nill! Then Kurt's intro. to our individual work stations is great (do we really have all our own tools?) we do and in abundance. — I left my own tools in my car and they remained there for the fortnights build. All tools were of professional standard including massive sanding and vacuuming machines.

The complete boat kits were there and ready for action with strakes already glued up to give us all a running start so at the end of the first day the boat shapes were already emerging. As the builds progressed time tableing was skilfully managed by the professional boat builder, Kurt, who ran the course like a gentle Sargent Major, so at the end of the ten days miraculously you had a boat ready for painting and varnishing at home.

I was advised to do the build on site by a previous builder who recommended it. It's perfectly feasible to complete a home build but Fyne Boat kits are obviously selected for their beauty and practicability and are above the ordinary. Home building is a lonely occupation and surmounting any problems on say cold evenings with bad lighting and poor equipment could lead to the project taking months to complete. Someone once told me that many men's shed are full of incomplete dreams. This will not happen at Fyne Boats.

The extra spin offs, on my course, were the conviviality between the 'students' and staff, especially Kurt the man in charge and the help we all gave each other as the course progressed. I don't know where else this type of service exists. There is also a free post build advice service which acts as a safety net for any unforeseen problems.
Roger (Chester Yawl, 10 day course, September 2021)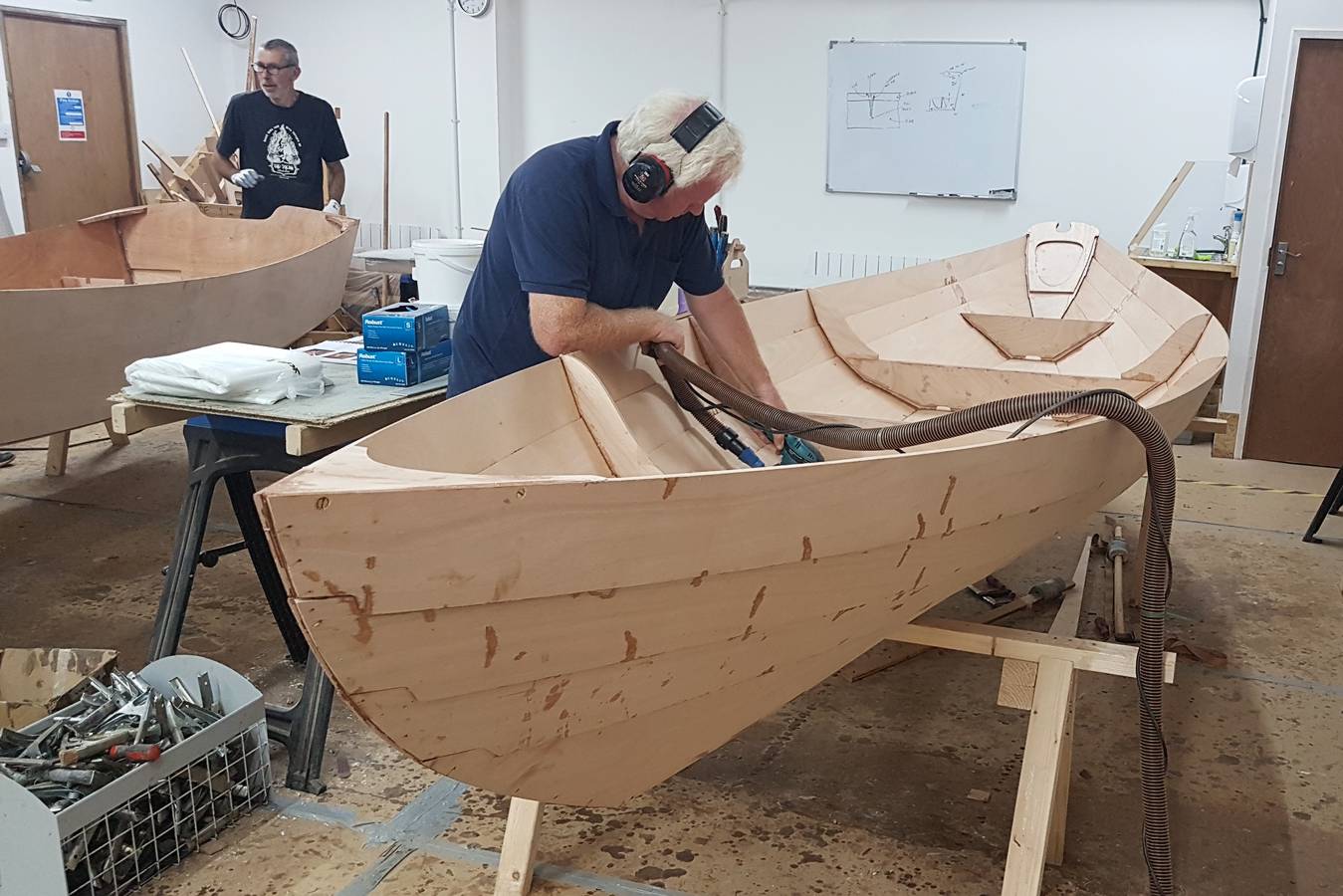 This was a really good week, that exceeded my already high expectations.

Kurt is a teacher by profession, but he is more than this. I am a teacher development professional, and I was particularly impressed with the way he rapidly assessed the needs of his class and adapted his teaching style to each of us, perfectly balancing between expert tuition and letting his students blossom.

The classroom was well laid out and very well equipped. I have a number of tools on my Christmas list!

I am very pleased with my boat, and family and friends are blown away. Hopefully some of them will book in. A few of them have asked for details.
Phil (Northeaster Dory, June 2021 course)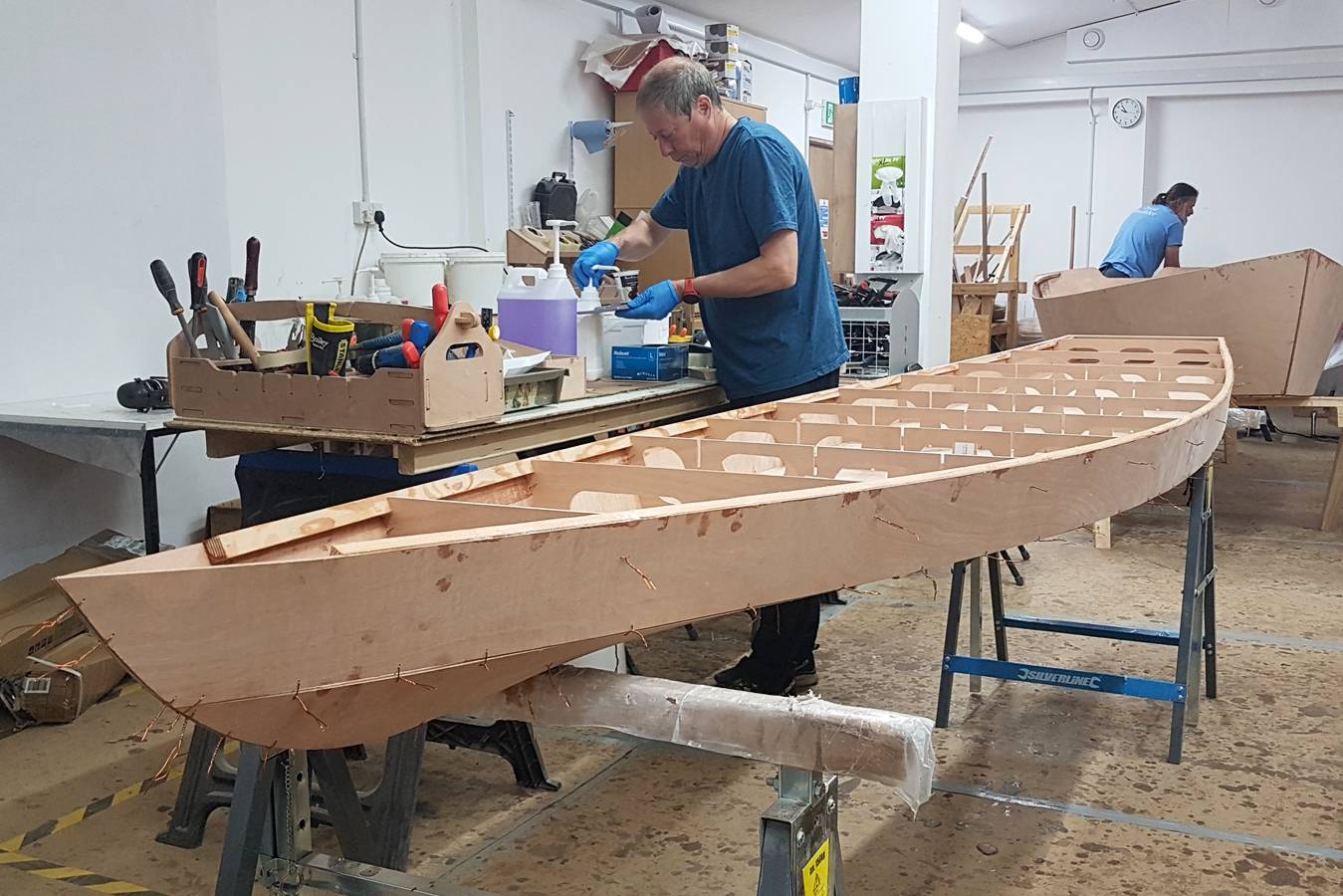 Many thanks to Kurt and your team. I had a great couple of weeks building my SUP. I've done many exciting things in my life and this ranks right up there as one of the best.

It started with a call from Kurt who then set everything up perfectly. The building week was very interesting. Lots of hints and tips from Kurt balanced with letting me get on with the build. Having 4 completely different boats being constructed at the same time was really interesting. Long days where the time flew past.

I have to confess now. I have just retired as an assessor for the international standard for service excellence. I have visited many businesses and organisations over the years to assess their customer service. Yours definitely rates way up there as delivering exceptional customer service excellence.
Dave (Kaholo SUP, June 2021 course)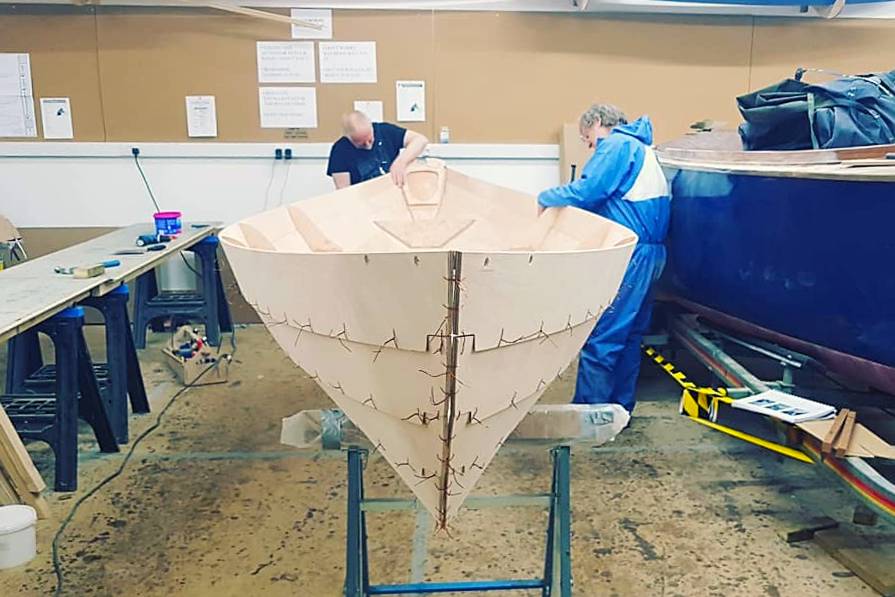 I enjoyed the week tremendously, it was very tough and the workload a bit intense for a lazy retired person like me. With Kurt's help we got there in the end.

Kurt was very good - just the right mix of helping, teaching and letting us get on with things.
Ian (Northeaster Dory, April 2021 course)
I really enjoyed the course and Kurt was an excellent teacher. The work was hard though and the days long - but it was necessary to get the boat into a proper state for transport. It was nice to be told on a couple of occasions not to "kill ourselves" with work - however it became apparent that we did in fact have to punch the hours!

I found all the staff friendly and welcoming, thanks to Phil also for lending a hand. The atmosphere was relaxed, confident and can-do. I would certainly recommend this course to friends - though I would warn them it is hard work. I feel I have come away with some useful generic skills and would definitely now like to build my own boat at home.
Kieran (Northeaster Dory, April 2021 course)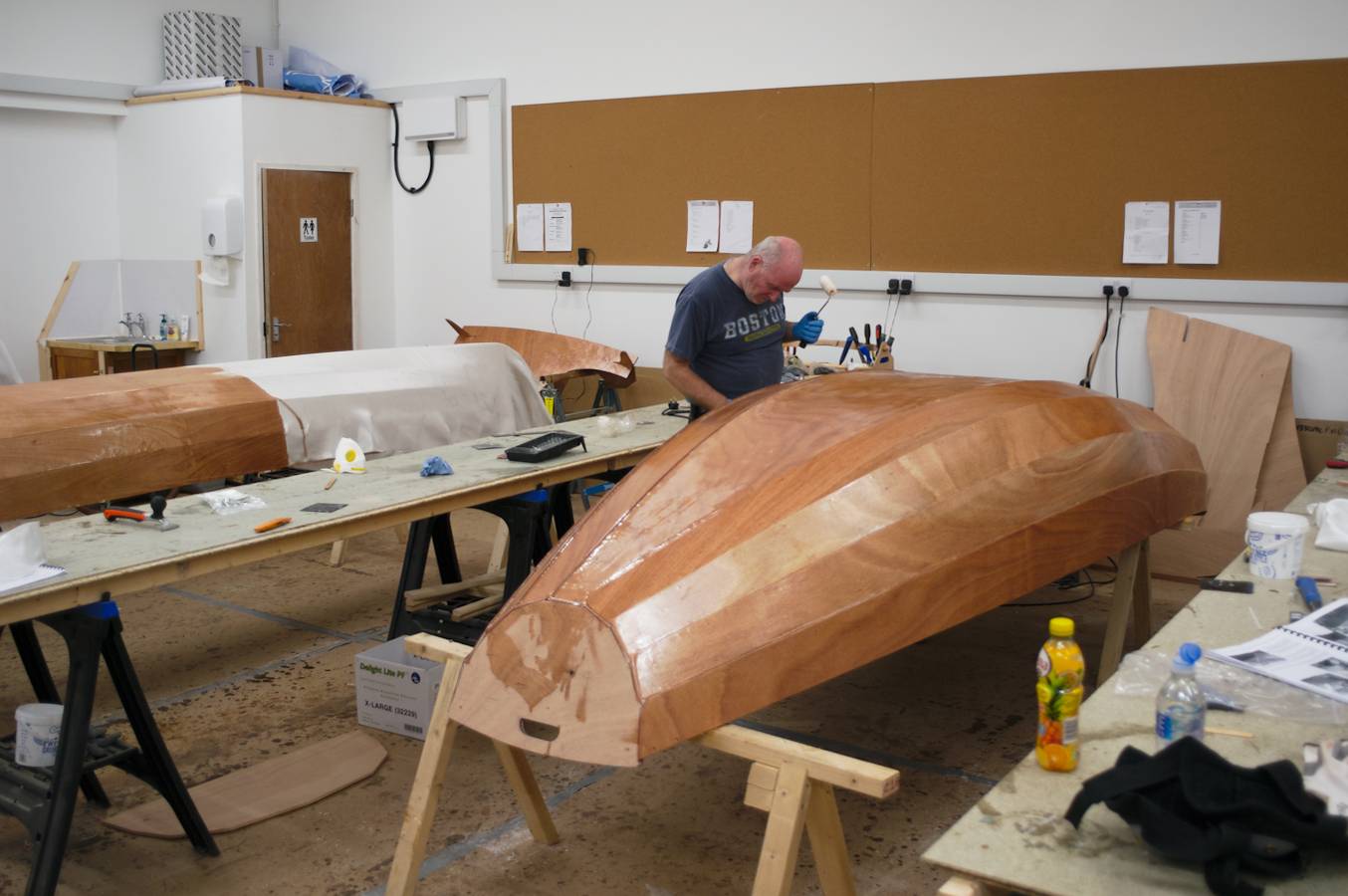 I really enjoyed the week; the facilities and equipment are top class; the kit materials were also perfect, and not least; Kurt is a great teacher; patient and thorough!!

You have a great team; hope to repeat the process again with another model; its the only way ill get to actually finish a boat project!
Niall (Passagemaker Dinghy, December 2019 course)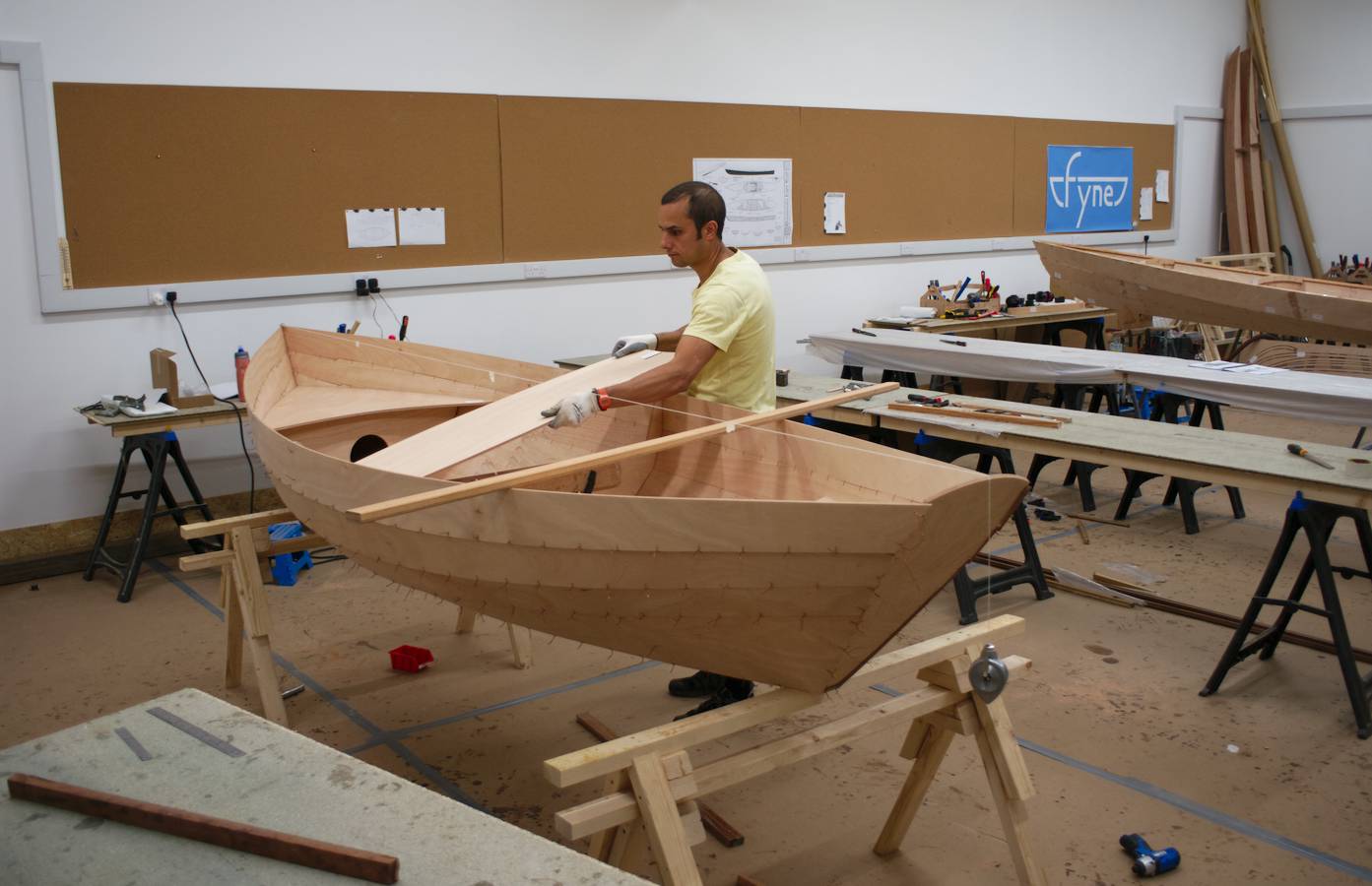 First of all I wanted to say thanks for a fantastic week. I thoroughly enjoyed it but couldn't have it done it without all your help. Also practically it was great to have Kurt's help during the course as I have little time at home. Plus it was great to meet such a lovely bunch of blokes and to see a business like that thriving for so many years. You're definitely doing something right.
Gary (Dinky Dory, July 2019 course)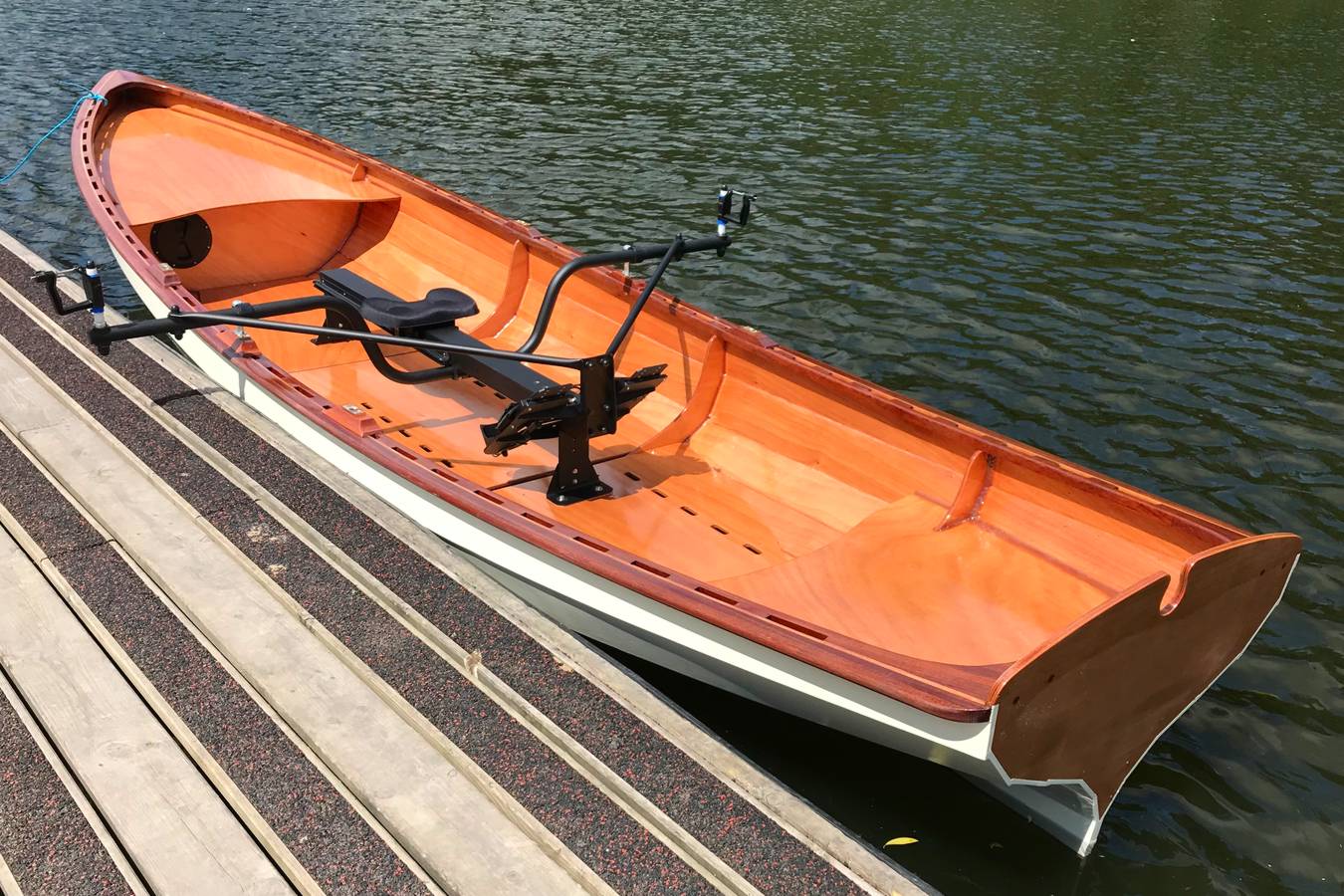 During the ten-day course, not only did I learn a lot of new skills but also I had a fantastic time. Although it was hard work at times – and quite long hours on occasions – I found the whole experience strangely relaxing if only because it provided me with a complete break from my normal routines. Kurt was a fantastic instructor: as well as being kind and endlessly patient, nothing was too much trouble for him and I very much appreciated the way in which he dealt calmly with all of the inevitable issues that cropped up during the build. The working environment was spacious, light and remarkably clean and it was clear that Kurt had gone to significant lengths to prepare my workspace before I arrived … even to the extent of glueing some of the puzzle joints so that I could make a swift start on the build. What is more, the classroom was incredibly well-equipped with all the tools, safety gear and consumables that I could possibly need. Given that I had well over 60 clamps on the boat at one point in time, I simply cannot imagine being able to have built it at home!

In short, I was thoroughly impressed by the service that you offered, not only cutting a very high-quality kit in the first place but also helping me to assemble it into something resembling a finished boat. Please pass on my thanks to everyone.
Steve (Chester Yawl, June 2019 course)