Competitive rowing boats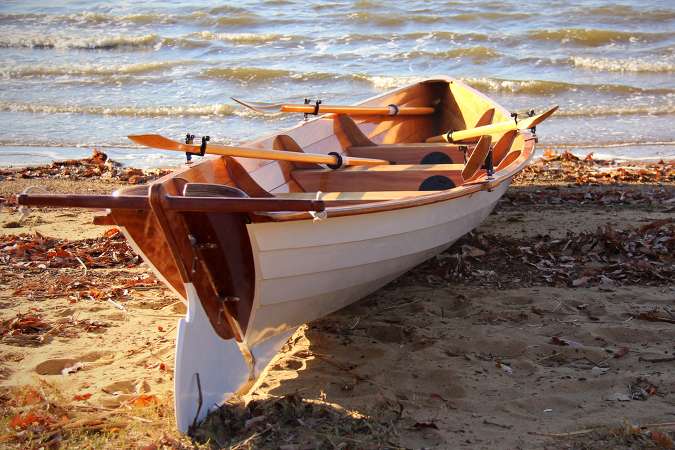 Fyne Boat Kits have a range of competitive fixed-seat wooden rowing boat kits that are quick to build and are proven race-winners. The kits cost much less than traditionally-built rowing boats and, due to their modern construction, are lighter and stiffer than most similar boats. They are a great choice for rowing clubs wanting to build low-cost traditional-looking wooden boats that will win races.
Our kits contain everything that is needed to build the boat, except a few basic tools and consumables and the final paint and varnish. The plywood panels are accurately computer-cut with pre-cut joints, pre-drilled tie holes and panel location marks. The kits include all the necessary epoxy resin, fillers, copper ties, fibreglass fabric and solid wood. Our construction manuals are very detailed and we provide free technical support throughout the building process.
The speed and ease of construction, together with the low price of the kits, make for a low barrier to entry for small rowing clubs who don't have the time or experience to build a less advanced plywood kit. Boats built from our kits are fully coated with epoxy resin, eliminating most of the maintenence required for traditional wooden boats.
The Whitby Fisherman's Amateur Rowing Club won both the four-oared category and the veterans over-40 category in the 2014 Great River Race on the Thames in their Northeaster Dory, Griffin, which they built from our standard rowing kit. Several other rowing clubs have also built Northeaster Dories.
Following their success racing their Northeaster Dory, the Whitby club approached us to provide a kit for a stitch-and-glue rendition of a traditional Cornish pilot gig, something nobody had attempted before. The first Whitby Pilot Gig, Monarch, carried the team to victory – just four months after the build was started – in the twenty-mile New Waterloo Dispatch Race, which celebrated the 200th anniversary of the battle of Waterloo.
All prices include VAT.