What Do I Need to Build a Boat Kit?
What is included in the kit?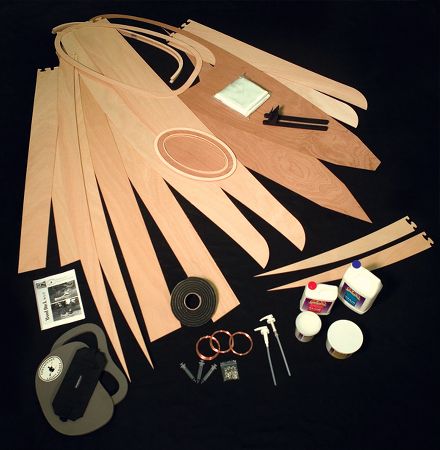 Kit contents vary by boat design. You can find a specific list of the kit contents on the product page for the boat design you are interested in.
In general, the boat kits contain everything you need to assemble the boat, except a few tools and consumables and your choice of marine paint and/or varnish.
Construction manual
Plans (if required)
Email and telephone support and advice from experienced builders
All the wooden parts, accurately machined and with pre-cut joints, ready for assembly. Many kits also have pre-drilled tie holes.
All the glues required for the boat, such as epoxy resin and waterproof wood glue. Dispensing pumps and fillers are included for the epoxy.
Glass fabric and/or glass tape as appropriate
Hull fasteners: screws, nails and copper ties, as appropriate
Fittings, including necessary mounting hardware. For example: cleats, blocks, hatches, drain plugs, rowlocks and sockets, as appropriate for the boat.
What else is needed?
In addition to the boat hull kit, you will need the following to finish your boat:
Mixing pots (cleaned yoghurt pots are safe to use with our epoxy only)
Disposable paint brushes, for epoxy
Plastic sheeting to keep any epoxy drips off the floor
Marine paint and/or varnish (see below)
Personal Protective Equipment (PPE)
Paint and Varnish
We don't include paint or varnish with the kits because there are so many options and colour schemes to choose from. Most of our customers will varnish at least the decks and inside of their boats, but it is common to paint the outside of the hull a contrasting colour. It is essential to use a high-quality marine paint or varnish, to protect the wood and epoxy from ultraviolet (UV) radiation in sunlight. A marine gloss varnish contains UV filters to protect the surface underneath while showing the wood grain to best effect.
For most people, we recommend a single-pack paint or varnish instead of the more expensive twin-pack systems. Twin-pack is a bit tougher, but it contains nasty solvents and is harder to work with.
Our most popular paint is Teamac and our most popular varnish is Coo-Var. Both are single-pack systems.
What tools are needed to assemble a kit?
Only basic hand tools are needed (and only minimal wood working skills):
Drill and drill bits
A small handsaw. We like Japanese pull saws, but any saw will do.
F-clamps (between 5 and 10 for most kits)
Sandpaper
Two small tables or saw horses to raise the boat to a comfortable working height. Adjustable trestles work well for canoes and kayaks.
Screwdrivers
Wire cutters (for stitch-and-glue boats)
Pliers
Block plane (essential for strip-planked boats; useful for other boats)
The following tools aren't essential but can make the work easier:
Random orbital sander – we strongly recommend this because it saves a lot of time. We like to use the net-type sanding discs because they improve dust extraction and last longer.
Rasps or files
Scraper: useful for cleaning up hardened drips of epoxy.
Router and roundover bit: useful for shaping gunwales, but careful sanding works equally well.
Heated tray for the epoxy, especially if working in winter. Plant propagators, darkroom trays and reptile heating pads all work well. Put it in a box to trap the heat inside.