Boat Kit Contents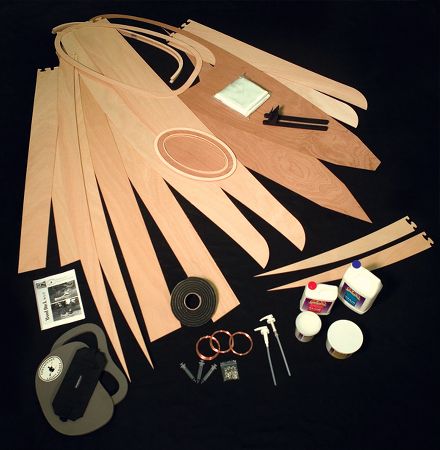 The boat hull kits contain all that you will need to assemble the boat:
construction manual
plans as appropriate
email and telephone support and advice from experienced builders
pre-cut plywood, soft wood and hard wood with pre-cut joints and, in many kits, pre-drilled tie holes.
epoxy with included measuring dispenser pumps
epoxy fillers for joints and fillets
glass fabric and glass tape as appropriate
ties, screws and nails
fittings such as cleats and blocks as appropriate
hatches or drain plugs
rowlocks and sockets as appropriate
If you buy a kit there is no need for you to purchase the plans and manual.
We can supply high quality sails for all of our sailing boats but they are not included in the kit, allowing you to shop around for the best price.
What else is needed?
In addition to the boat hull kit you will have to obtain the following to finish a boat:
mixing / filleting sticks
mixing pots (cleaned yoghurt pots for our epoxy only)
vinyl gloves
plastic squeegee
paint brushes
masking tape
plastic packing tape
bin liners to keep any epoxy drips off the floor
paint and/or varnish (largely cosmetic)
dust mask
What tools are needed to assemble a kit?
Minimum wood working skills are required and only basic tools are needed:
drill and drill bit
a small saw (rub-rails and shear clamps are supplied an inch over length to prevent damage during transit but an accurate cut is not required)
spring clamps
F-Clamps (between 5 and 10 for most kits)
glass paper
two small tables or saw horses to raise the boat to a comfortable working height
screwdriver
scissors for the fabric
wire cutters or old scissors
pliers
file
The following tools are useful to make the work easier but are by no means necessary:
electric orbital sander
cabinet scraper
router and roundover bit
heated tray for the epoxy