Custom CNC Router Cutting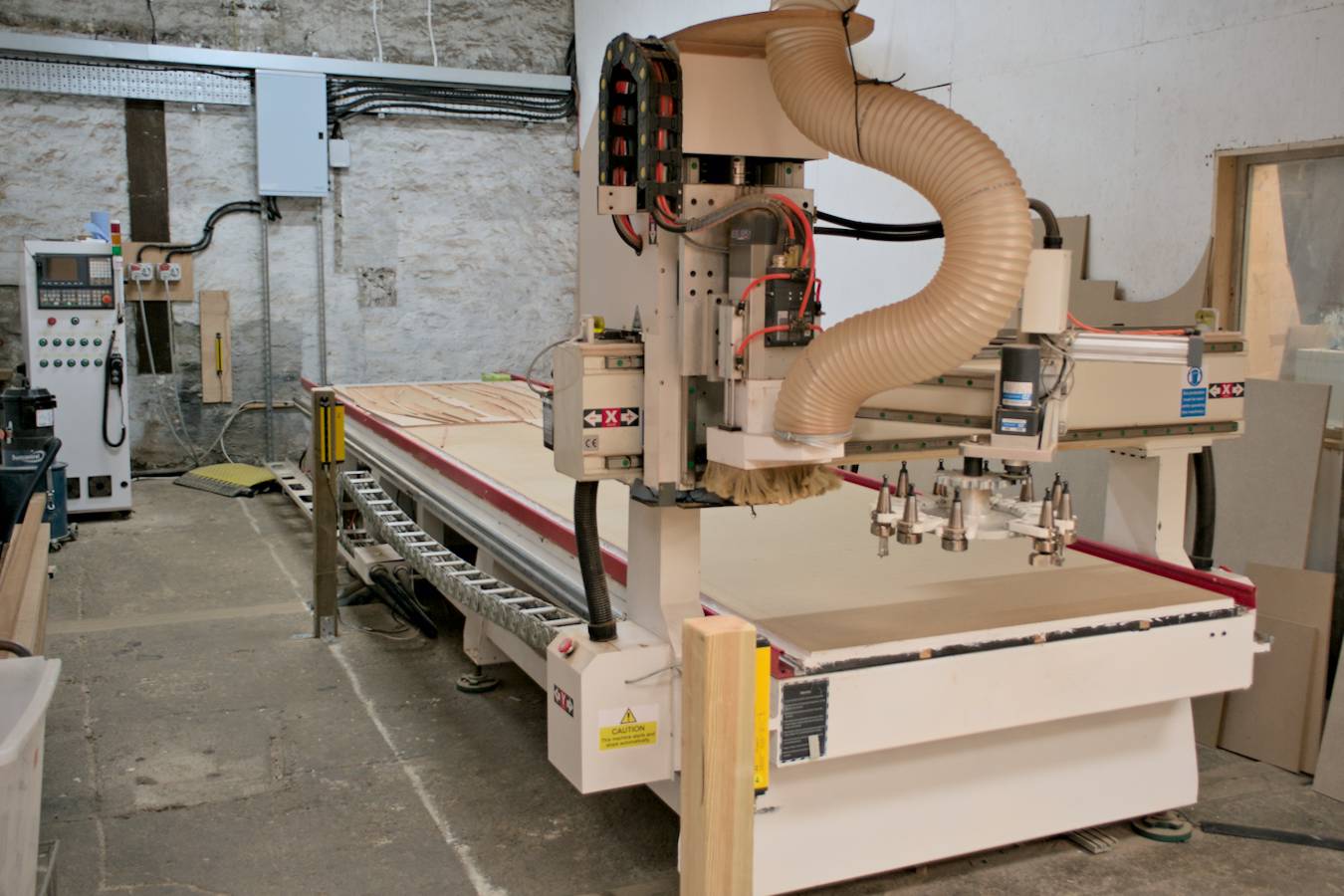 With twenty-five years experience in CNC manufacturing, we offer a high-quality service in CNC router cutting for DIY and business customers.
We can produce CNC cut parts in sheet materials including plywood, MDF, acrylic and foam (but not metal). You can have your sheet material delivered to our workshop and collect the parts when they are ready. If it's marine plywood you need, we keep a range of thicknesses in stock. We can also mill pieces from hardwood and softwood planks.
Your parts can be cut out, shaped, drilled, mortised, recessed, bevelled, rebated, engraved and labelled using our twelve-tool CNC machine. Our CNC router can operate on standard-sized sheet material or other sizes up to six metres in length.
We are happy to help with one-off DIY projects or to batch-produce parts for your business, starting from DXF files or dimensioned drawings. Our prices are competitive and we take pride in the quality of our work. We take an interest in supporting small businesses requiring a reliable CNC production partner.
We ship worldwide from our workshop near Kendal or you can collect from us, just five minutes from M6 junction 36.
CNC Cut Marine Plywood Panels
As a well-established plywood boat kit manufacturer, we are well-stocked with top-quality marine plywood in a range of thicknesses, so you don't even need to worry about sourcing the best grade plywood and getting it to us.
Our marine plywood is the best choice for boat building and fitting out boats and van conversions, as well as countless other uses that require strong and lightweight panels with good resistance to harsh environments.
On-Demand CNC Kit Parts for DIY Self-Assembly
Our skilled team can handle every step of CNC production, packing and shipping. Once we have a set of fine-tuned cut files, we can fulfil orders on-demand and drop-ship them direct to your customers, so you can focus on design and technical support. Our fully-equipped workshop can also produce complex parts that can't be completed on a CNC machine and machine additional wooden parts for structural framing. We can even do professional quality in-house printing for large-format plans and wire-bound instruction manuals (in full colour) and send them out together with your CNC cut parts.
CNC Router Capabilities
Our CNC router bed measures 6000 × 1225 mm.
It has a powerful vacuum table to hold thin sheet materials flat.
Cutting is done by a 9kW spindle.
It has an automatic tool-changer with a 12-tool carousel.
We use high-quality cutting tools for a clean cut without furry edges.
Find Out More
To enquire about custom CNC cutting, use our contact form or use our details below to contact us.